On A Wild Cat Chase!
April 2, 2018 Uncategorized
Fifty days trip – traveling in various modes of transport and self driving, in various climatic conditions and in different terrains to various places…sad but this trip too has finally come to an end!
My first stop was Eagle's Nest, Arunachal Pradesh. Four years back we had gone there for on a wild Rufous-necked Hornbill chase. The weather played killjoy and after two days there, we cut short our stay and went to Kaziranga National Park.
I had since then always wanted to go back to Arunachal Pradesh, but for the small cats.
Eagle's Nest is mainly a birding place so there is not one single guide to take you around for mammals. I contacted a quite well-known birding guide there. He very honestly told me that, while taking his birding guests, he has seen golden cat, marbled cat and the leopard cat on several occasion but he has no clue where they could be found. I asked some people and wrote to others, especially those who had done research work on these elusive little cats. Some were helpful while others would not part with any information, and why should they. Finally, I decided that if I needed to know more about these little cats, there was no point in asking around but to go and try to find them myself.
I thought that late February is a good time as it was a bit early for the birders so little disturbance to chance upon the cats and the weather would not be all that cold either. In addition, that is that time when the guides are free. After discussing few things with the guide I planned for a fourteen-day venture in AP, first to Eagle's Nest then to Pakke Tiger Reserve.
At Eagle's Nest, every day I walked for around 16 km, stopping and waiting for the cats to come out in some place and at other places for b'fast/lunch. The routes were – from Bomphu Camp to Sissni point and from there further up and back; or from Chaku to Gorkha Camp to Sunder-view and back.
First day at Sissni point, three Dumdum flies bit me. In minutes, my ankle got swollen to a ping-pong ball sized bump. The itching was so bad that I could only resist by thinking – what if the wounds got infected, that too in a remote place with no medical facilities around.
As if that was not enough, the leeches decided to come out after the previous day rainfall! From each and every blade of grass you could see the thin stick like leeches wiggling with mouth wide open. With the mouth wider than their body's width, they were ready to latch on to any thing that came their way. By the time I reached back to the camp, the stick thin leeches had turned into huge thumb-sized and I had five leeches on one foot and seven leeches on the other foot! God knows how they managed to get inside the shoes and socks to suck! I tried to pull them but their suction was too good…they expanded like a rubber band and then would slip back. Some should study these slimy creatures so that they are able to invent better mobile/GoPro holders than those found in the market!
My driver – one happy and super enthusiastic person said that if you are diabetic it is good for you to be sucked by leeches! As if that knowledge would help! I am genetically low on sugar and I am anemic too! Anyway, finally I caught them with a tissue and pulled them one by one. From previous experience I knew that the itching was going to be irresistible and going to be there for a long-long time to come.
Back to the chase for wild small cats…I was so darn excited when I saw these small pug marks that I waited for the whole of next day for a little fur ball to appear, but….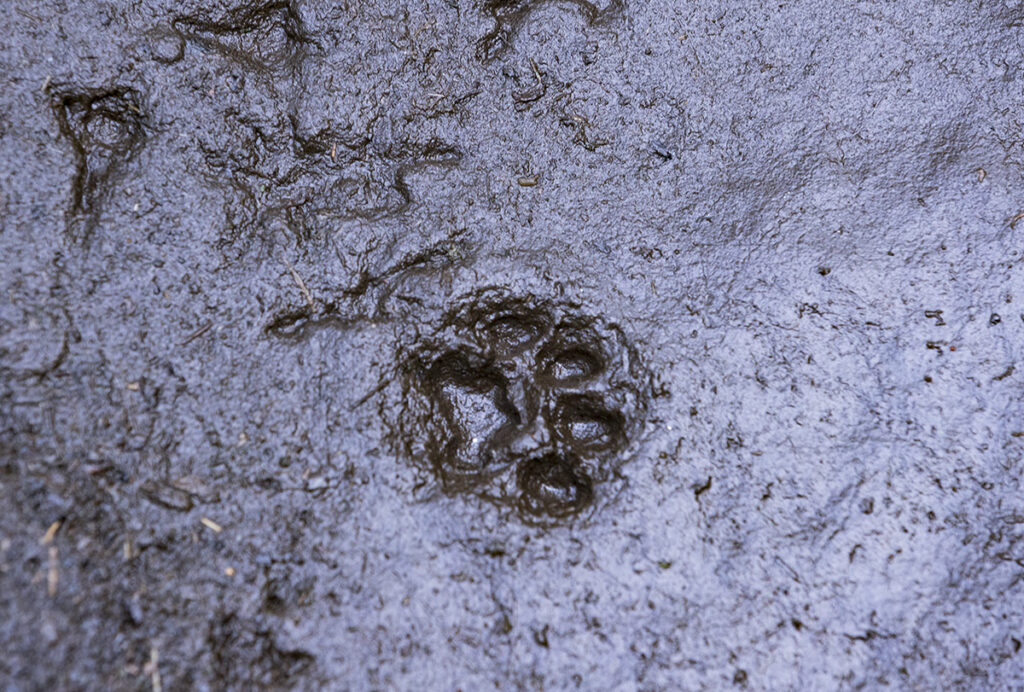 There were scat everywhere – fresh scat, not-so-fresh scat, few-days-old scat, months-old scat, only-fur-remaining scat…but…no cat!!
I had a perfect combination of driver and guide. While the guide was a man of few words the driver Mr Lama, fondly called Maymay, was always telling stories, which made me laugh so much that at times tears rolled down my cheeks. By the third day the guide was getting worried and I heard him mumble to himself on several occasions that he was feeling bad that he could not show me what I had come looking for. I pacified him that this was a recce trip and there is no guarantee in the wild that you get to see what you came for. He was not convinced. The driver was the optimist one and was always encouraging me by saying, do not lose hope, one should never lose hope….
Sad to say but like last time, this expedition for small wild cats chase too ended with empty hands! This time too the weather changed for the worst and all the fourteen days I was in Arunachal Pradesh and Assam, I saw unprecedented dark and cloudy skies with sporadic rains/drizzles and then on the last night and day I witnessed some heavy thunders, lightnings and shower, which I am sure Captain Haddock would have said, "thousands of eyes-blinding lightning and ear-shattering thunder" or something more rhyming!
Finally on the sixth day, after walking, in total for 96 km, it was time to go. After saying bye to the friendliest staff in whole world – found only in Bomphu Camp – we set off to Pakke Tiger Reserve (PTR).
I was still optimistic about seeing a cat somewhere or even a Serow,  so I was peeping from the window, hoping to see a Serow basking on top of a rock, but I suppose the weather was too cold for them to come out to bask.
The route was beautiful with misty mountains painted with Rhododendron in several colors, which had started to bloom, all along the road. I even got Maymay to let me drive his Bolero on the twisty-curvy roads of AP until we crossed the Shaitan Bridge (so tiny but sounds so impressive).
Finally we reached our destination. Five years back we had stayed at the Seijosa area and this time I decided to stay at West Bank side.
I am sure there would be very few people who would not fall in love with the pristine forest of Pakke Tiger Reserve. I surely did on my last visit there.  Though it took me five years before I could go there again, I was eventually there.
That time I had gone just to see how the forest was and with no expectation.  I was delighted after getting to walk, yes walk, in the huge jungle buzzing with exotic birds and several species of exotic butterflies, between large trees and wild elephants. Tiger is always there in my mind and that time too I was hoping to come face to face with the love of my life, but I was not that lucky.
Pakke – it is a tiger reserve, and the camera traps have captured several species of cats. The in-house Biologist showed me a compilation of the clips from the camera traps. I was totally spellbound to see the video clip of two leopard cubs (one was melanistic), chasing, jumping and pouncing on each other, while the mother, also melanistic, went and licked the camera!  There were several clips of golden cats, fishing cats, marbled cats, clouded leopards, leopards and of course, tigers!
There are rescue camps in the TR too. At the time I was there, there were two baby Himalayan bear cubs, which were found by the villagers. Most probably the mother was killed. They have rescued and released several bear cubs successfully in the past, so these too will be released in the wild. After they are rescued they are bottle-fed and look after for some time before slowly weaning them away from milk and encouraging them to feed on indigenous plants that these bears eat. Then they take them to the jungle and keep them under supervision on areas, which are designated for such cases. After the forest people are confident that the cubs are big enough and can take care of themselves, they fit self-destructive radio collars on them and leave them in the forest.
In the camp there was a rescued elephant calf too. One day, the villagers saw an enfant elephant calf following the goats and sheep returning home after grazing in the fields nearby. They informed the forest department and the calf was brought to the camp. She was found bleeding on the tail, where a bullet had passed through and now is almost healed. There is also a hole from where a bullet passed her floppy ears. She was so attached to he keeper that she was constantly found following him. If he ran she would jog behind him and if he walked she would walk behind him. It felt so good to see this adorable calf happily trotting all over the compound.  I was hoping she would be a success case just like Naledi of Botswana! The sad part is, unlike the bear cubs, I was told that she cannot be released back into the forest!
We really need to cheer such people who take so much care and look after these helpless babies of the forest!
The weather did not change for better so I decided to go to Hoollongapar Gibbon Sanctuary, home to the only apes found in India.
Next morning we drove to the sanctuary. Again the leeches were out…wriggling everywhere in every blade of grass, several of them in each and every leaf! I walked in the middle of the path trying to avoid them. All of a sudden the guide called to say, "Ma'am there is a male gibbon up there!" I followed him and went inside the narrow path with my camera fixed on the tripod! Man, it is really difficult to photograph these mammals! They are always at the top, at least they were when I was there; then, the camera on the tripod can only tilt to a certain point.  On top of that I am not one of those who has strong arms to easily lift the camera and tilt your head back till the neck is ready to snap and wait to focus and then take photographs, that too after darting here and there and everywhere!  Do not forget that the male has black coat with white brows.  In addition, the sky was seriously conspiring with who-so-ever and remained dull and dark! I knew I would not get a good photograph. Anyway, I was running here and there after the guide, to find a spot to take photographs.
These gibbons too were conspiring with the sky and god knows who else! The male gibbon would sit quietly and then as I focused he would leap and swing from one branch to another, again I had to run after him, carrying the camera tripod. I was muttering to myself – "Not fair…not fair…not fair…how can you swing and run on branches on top of tree while I can only walk or run with so many obstacles on the ground and on my shoulder!" Phew…too tiring! Finally he decided to give me few shots, before swinging into the thick foliage of the trees!
I was so tired and breathless that even when the guide called to say there is a female in the nearby tree, I refused to budge. I decided to stay there and wait. But after a while, the greed to capture their images in my camera made me run after them again!  The forest was humid after the rainfall the previous evening and I was profusely sweating! After I came out in the open, I said that is it and put the tripod on the ground, like an angry tennis star brat, and waited.
Just then the sweet female Hoolock Gibbon, I am sure, took pity on me and came to a branch just above in front of me and looked at me.
After I took few shots, she gave a cry and leapt forward.
I thought she was worried about her two babies who were leaping and swinging from branch to branch. But no…it was nature's call. She hung on a branch and pooped and then peed! Hahahahaha!  I think that they do not like to mess the branches where they rest and eat on, therefore they dangle from a branch and do their business, so that the waste lands way below on the floor of the forest. Pretty cool and clean these gibbons are huh!?!
Sorry for the photograph above with her hands out of the frame.  Though she gave me ample of time to click, I could not tilt my camera further than that certain point.
I could have stayed there for hours just to watch them go about their daily routine, but by then I was too tired, thirsty and had a long way to go, so I bid adieu and went back to the car to drive to Orang National Park.
As soon as I came out of the forest, the driver told me check if I had leeches on me. Oh my god, the sudden realization that I was running all over the place with waist-high shrubs all around me made me jump like a crazy ball! I had totally forgotten about the leeches until then!  Finally, I settled down on a fallen tree, yeah of course after making sure there was not a single leech around, and opened my shoes. Thank the Isa Masih, only one had somehow got inside my sock and one was wriggling from the left shoe.
Orang National Park: I was pleasantly surprised with this park! My guide, yeah the same one from Eagle's Nest, was super-duper excited. He all of a sudden became very talkative and kept on saying "Oh ma'am, this is a target bird…many of my guests want to photograph this bird." I enjoyed looking at most of them and even clicked a Swamp Francolin and a Great Hornbill to make him happy!
We saw two rhinos, and one was a massive beast, with muscles bulging out from the armored skin!
Happy with this trip, the next day we headed to Manas National Park. I managed to photograph few Gaurs, a jungle cat and saw lots of fresh tiger paw parks and heard several of those – "anytime out in the open" kind of alarm calls!  The weather was very bad for any sightings as it started to rain.  The lightning and thunder were so loud that I dared not venture out of my cottage, so could not really take advantage of how much this beautiful park has on offer.
What a trip this turned out to be! Except for Eagle's Nest and Pakke Tiger Reserve, visits to other places were made at the spur of the moment. There is so much to see, so much to enjoy, so much to feel blessed for that I remembered a poem I had learnt by-heart when I was a little girl:
All Things Bright and Beautiful.
~ by Cecil F. Alexander.
All things bright and beautiful,
All creatures great and small,
All things wise and wonderful,
The good Mother Nature made them all.
Each little flower that opens,
Each little bird that sings,
She made their beautiful colors,
She made their tiny wings.
The purple-headed mountain,
The river running by,
The morning and the sunset,
That brightens up the sky.
The cold wind in the winter,
The pleasant summer sun,
The ripe fruits in the garden,
She made them every one.
The tall trees in the greenwood,
The meadows where we play,
The rushes by the water,
To gather every day.
She gave us eyes to see them,
And lips that we might tell,
Oh how great is Mother Nature,
Who has made all things so well.
PS: I have changed God to Mother Nature
Related articles